Get your Mazda vehicle sold at Mazda Wreckers Melbourne for up to $15,000 cash on the spot regardless of its age and condition. It doesn't matter if it is old, used, damaged, or unwanted, Wrecko will buy your every Mazda. We pay money for every Mazda car, 4wd, van and truck and provide free car removal service.
Even if you are looking for Mazda parts, we can help you.
Call our expert on 0413 410 672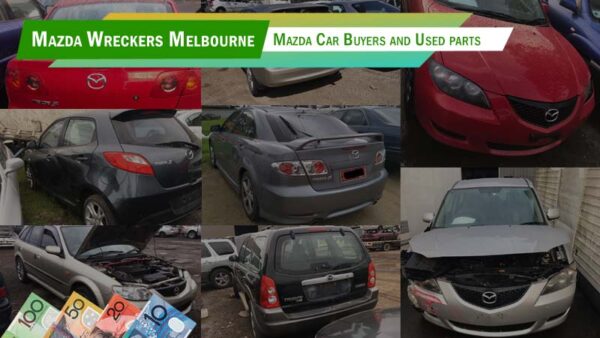 You can also fill our form to send an online inquiry.
Cash for Mazda Cars and Vans Up To $15,000
There will be a time when your Mazda car, SUV or van comes to its end of life. Some will incur high road costs, some will get damaged or some will have engine or transmission ceased. You will be left out with a question of what will I be doing with it? At Wrecko Mazda wreckers Melbourne, we buy such vehicles (cars, trucks and vans) when it comes to that situation. Instead of just letting it sit it in your back yard or driveway and occupy the space, get top cash for it with free removal and get the space that you always wanted.
Cars
121
2
3
323
626
808
929
Eunos
Mx-5
Mx-6
RX-3
RX-4
RX-7
RX-8
A lot of people search the same question. How can I get cash for my car? And they find the best answer in the form of Wrecko.
SUVs, Family Cars
CX-3
CX-5
CX-7
CX-8
CX-9
Mpv
Premacy
Tribute
Vans
Got a Mazda Vehicle instead and want to sell?  Call 0413410672 and get an amazing cash for car offer from our experts.
How to Sell Your Mazda Online
To find out what is the worth of Mazda Vehicle is? Feel free to call our dedicated team on 0413410672. There is another option to do the same thing by filling our online quote form. After getting your Mazda details, we will come up with an offer. If you accept it, we will visit you with money and pay you on the spot. After that, we will remove and tow-away your vehicle.
Cash for Mazda Utes and Trucks – Same Day Car Removals
Mazda wreckers Melbourne offer cash and free truck removal service for a wide range of Mazda Utes and Trucks irrespective of its condition. Our team buy all Mazda. So whether you have single or dual cab, petrol or diesel, manual or automatic. We will pay you direct cash for your car regardless of your location in Melbourne.
Sell it to our truck wreckers in Melbourne and get the best cash paid for any Utes, Toyota Hilux, Nissan Navara, Mitsubishi Triton, Mazda Bravo or Mazda BT-50
Utes, Single or Double Cab Utes 2WD, 4WDs, 4x4s, Petrol or Diesel
Bravo – Ford Couriers
B2600 – Ford Couriers
BT-50 – Ford Rangers
Trucks
Thanks to our junk car removal Melbourne service, we can tow-away any type of unwanted truck.
Second-hand Mazda Spare Parts Melbourne
Hunting down Mazda car parts can really be annoying when you don't find the right part for your Mazda Vehicle. At Mazda wrecking Melbourne, Wrecko makes the hunting for Mazda spares very easy and simple. Just let us know what are you looking for and we will check the availability and price.
Call us now on 0413410672 for any Mazda spare parts.
Remember, Mazda wreckers Melbourne are the prime provider of quality spare parts for any Mazda Vehicle such as car, SUV, Ute, van, 4WD or truck. Whether it be electrical, panel or mechanical auto parts, we hold extensive stocks of all model Mazda vehicles.
Mazda Car Wrecking and Dismantling Yard
Wrecko is also known for its Mazda dismantling and salvage services in Melbourne. Thanks to our Mazda wrecking service, we are one of the biggest and largest wrecking yards in Melbourne. Our company has been providing quality Mazda spare parts both locally and nationally for many years after dismantling unwanted cars.
Are interested in wrecking your car other than Mazda? Then get more information about wrecking your car and other makes and models.
Our experts are well-aware with the EPA guidelines and procedures to recycle a car. So, you must be in peace of mind that you are selling your car to licensed car wrecker.
Genuine Mazda Parts in Melbourne
You can find other car dismantlers in Melbourne but they are not specialize in every Mazda. So, you wouldn't be able get maximum cash for your car. Instead, they will give you scrap metal price without any removal service. In this situation, the only solution is to contact genuine Wrecko Mazda wreckers Melbourne.