Do you know how one phone call to Wrecko Cash For Cars can convert your old or junk car into cash? We will explain you everything here. If you are looking to sell your car for cash, without wasting any time or money in getting a roadworthy, then contact us today. Over the phone, we will tell you how much cash you can get for your unwanted car and how quickly we can come to pick it up.
By assuming that you are living too far from our yard, we can still buy and pick up your car within one hour after you accept and book your car with us.
Call now 0413 410 672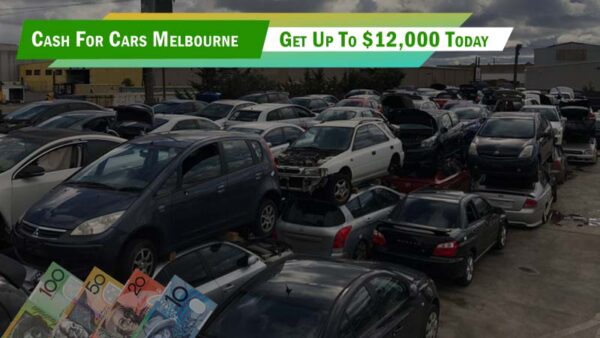 If you are unable to call us somehow, then you can also send an email with all your vehicle details. Alternatively, complete our contact form which is available on the right hand side of this page.
How Much Cash For Buying Your Car
Do you know how much maximum cash you can get for your car? Up to $12,000 – depending on your car condition, make, model and age.
Thanks to our industry experience and huge interest in cars, we can pay you more than any other car buyer and dealer. We always compete with other car buying companies and beat them by a huge margin, thanks to our higher quotes and numbers for unwanted cars.
Let's make it simple and easy. Just call us, discuss everything about your car and get a free quote now. If you accept our appraisal then we can come in next one or two hours depending on your availability and location.
About Wrecko Cash For Cars Program
Wrecko Cash For Cars is an exceptional platform where people can sell their car with ease, simplicity and comfort. How is that possible? Primarily, the main objective of our business it to buying unwanted vehicles directly from customers. To fulfil this goal, we buy all cars, vans, trucks, buses and 4wds. Moreover, we can come to any location in Melbourne to buy your car for cash.
Do you know that we have almost a decade of experience in car buying industry? That is the reason we know what is the best price for your car and we pay it on the spot.
What Types of Old and Scrap Cars We Buy
Another question that can arise in your mind about how you can get cash for a car that is non-running or non-working. The answer is really simple and straightforward. It is because we buy all types cars from old and used to scrap and junk. Besides, we also accept vehicles that are partially or completely damaged, accident or wrecked.
In case if you have an absolute scrap car for sale, then we are also ready to wreck it for cash as we will act like car wreckers near me in your area.
What Makes and Models are Accepted Here
As long as you have a fully complete car, we are ready to buy it. There are no other specific demands or hidden conditions. As a result, we accept all types of vehicles from all makes and models. This rule is also applied to commercial trucks, vans, buses and Utes.
Here is the list of popular car makes that we buy on daily basis.
Japanese cars: Honda, Toyota, Nissan, Mitsubishi, Daihatsu, Mazda, Subaru and all others
American makes: Ford, Holden, Chrysler, Jeep, Tesla and every other models
European models: Audi, BMW, Mercedes, Volkswagen, Volvo, Saab and all other makes
Service Areas For Cash For Cars
We are not only quick in evaluating your car, but we are also fast in paying for it. How is that possible? Thanks to different locations around Melbourne, Wrecko teams can pick up your car within two to three hours. So, you don't have to wait for days or weeks for someone to buy your car as Wrecko Cash For Cars can do it as quickly as possible.
When it comes to our service areas in Melbourne, we cover almost all suburbs.
Top cash for cars in Western suburbs
Fair cash for cars in Norther suburbs
Best cash for cars in Eastern suburbs
Great cash for cars South Eastern suburbs
Call us for free quote today.
Why Choose Wrecko Cash For Cars Program
Wrecko have an outstanding reputation among our customers due to our higher and fair prices. Being a top car buyer, it is our duty to provide everything which is necessary for our customers. That is the reason we take full responsibility of payment, paperwork and pickup of your car.
We have a friendly and professional staff who will help you at every step of selling your car. Our company have a team of trained tow-truck drivers who will pick up and collect your car in any unforeseen circumstances.
We Pay Cash Up To $12,000
With Wrecko Cash For Cars, anyone can get up to $12,000 cash for selling a car. This offer applies to all residential cars to commercial vehicles which includes cars, vans, trucks, buses, SUVs, and 4wds. As far as transfer of money is concerned, we do it on the spot when we arrive to remove your car.
We Complete All Transfer Paperwork
There is no need to fill out lengthy transfer forms. We can take care of all the paperwork which will save your time and efforts. Whether you are going to sell your car with registration or without registration, we will complete the paperwork according to that.
Do you want to sell your car with registration? Then we will check your car registration and adjust the refund in the quote.
Free Car Pickup and Collection
It is an absolute shame for us if you hire a tow truck or a trailer to drop off your car at our depot. If you are living inside Melbourne region, we can arrange a free car removal service. After accepting our free cash quote, just let us know about your phone number, time and address and we will do the rest for you.
Easiest Way to Sell your Car
Our company provides a shortest and easiest way to sell any car in Melbourne. Just give us a call for free quote or send an email with all your vehicle details and condition. And we will get back to you with a free quote.